Born To Be Wild Child Summer Party w/ The Rockin' Rhinos Live! 12:30pm-3:30pm, 8th June @YES, Manchester City Cntre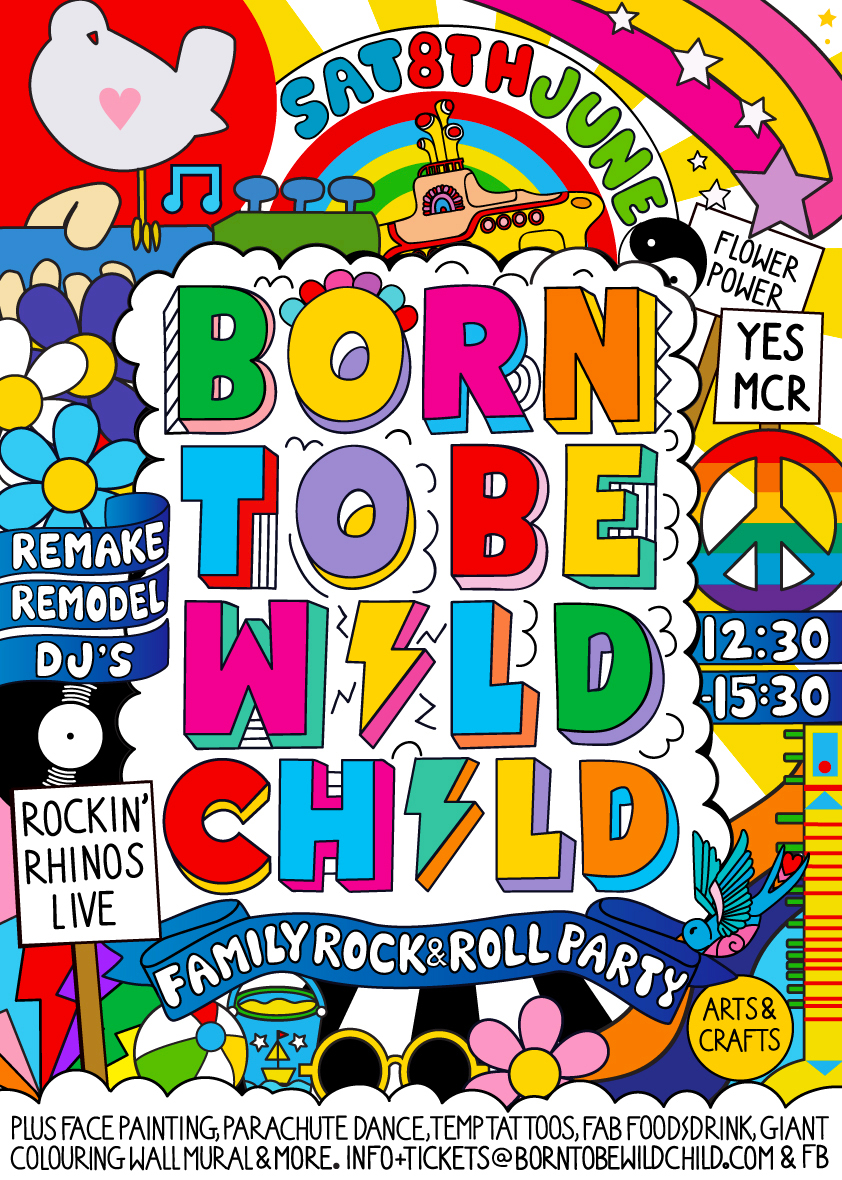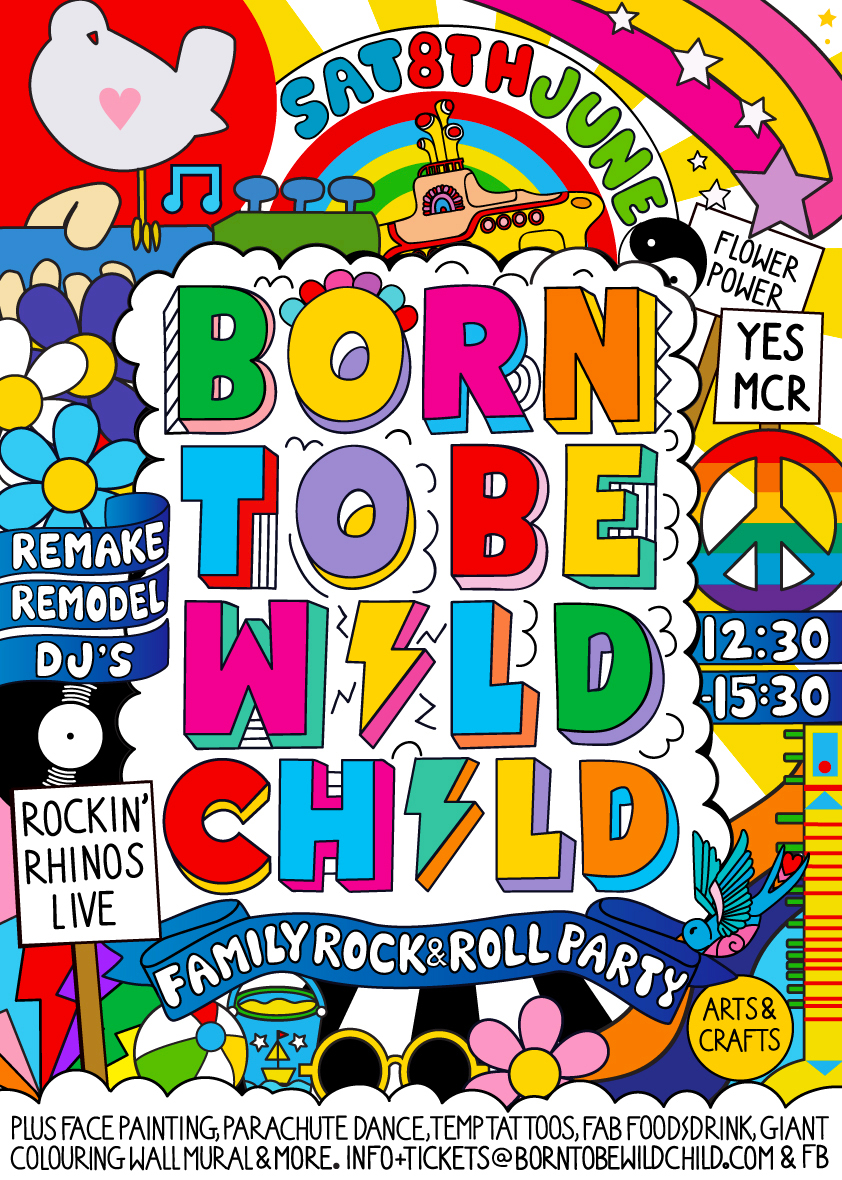 Born To Be Wild Child Summer Party w/ The Rockin' Rhinos Live! 12:30pm-3:30pm, 8th June @YES, Manchester City Cntre
We're back bringing the peace, love and sunshiinne to YES for our Summer party! Feel free to dress up in your most colourful costumes and outfits, think woodstock, flower power, the fab four, peace and love vibes- we will be giving out special prizes on the day for our fav outfits! Parents n'all!

The event is designed for parents to be able to socialise, enjoy the music, delicious drinks and have a boogie rockin out with your wild ones whilst keeping them entertained with the extra activities! BTBWC is for ALL the family to enjoy! Here's what's in store...

ROCK N ROLL DISCO IN THE PINK ROOM
The Remake Remodel Dj's will be playing rock n roll, classic rock, and guitar anthems in the Pink Room from the swinging 60's to now! Plus we will be playing a special power hour during the set of one of our fav 60s bands too! Stay tuned for details!

Also themed arts and crafts, giant colouring wall mural, temp tattoos, balloons, bubbles, inflatables, huge parachute dance and the BTBWC merch stall!

BASEMENT- THE ROCKIN' RHINOS LIVE
Manchester's much-loved makers of animal rock music – The Rockin' Rhinos will be playing not one but two intimate acoustic sets at our Summer Party @yes_mcr on Saturday 8th June… John Cooper Cat, Guy Gorilla, Liam Lion and Debra Zebra will be gracing the stage of the YES Basement room to help the party rock… as well as some of their own tunes expect a smattering of unique renditions of classics from The Ramones, the Specials and Bowie! This is not a zone to leave your little ones to enjoy alone! You guys are very much required to dance and sing along with your wild ones!🦍🐯🦁🦓

FACE PAINTING
by PieFace - face painting (Faces from £3)! Swinging 60's Face painting, super sun sparkles and glam glitter

FOOD AND DRINK
There's a fully licensed bar serving a fab selection of alcholic/non alcoholic drinks- craft beers/pints, fancy cocktails on the roof terrace buy one get for £1 and we recommend the yummy soft floats -ice tea with ice cream hell yeah- only £3.50 or two for £4.50, hot drinks from 95p and ofcourse kids soft drinks.
Food wise delicious grub from Pepperoni Playboy pizza slices half price - till 7pm, and Firebird Hope vegan and chicken burgers, fries available in the main bar.

OTHER INFO
The event is for all ages but the Recommended Age for this event is from 3 + due to the activities at the event but younger children than this are of course welcome and babies are free entry but pram parking is limited and would advise to ideally leave at home and come swing in a sling if poss! There's a lift too!

Tickets at borntobewildchild.com
Adult £7.50
Child £7.50
Pre Walkers Free (Free Ticket must be added to order)

*Please note the main bar and roof terrace are open to the general public on the day which your more than welcome to use too- our event will take place in the Pink Room and basement!
WILD CHILD'S, MAMAS N' PAPAS, ROCKERS N' ROLLERS- IMPORTANT INFO
The event is aimed at families. Pre walkers don't need to pay but must have a free ticket before hand for capacity regulations.
Every child must be accompanied by at least one adult and no more than four adults to one child.
All adults must be accompanied by a child and no more than three children to one adult. And of course, why are we even saying this, we have too but the children are your responsibility - keep an eye on em!
PRAM PARKING
If possible we'd say leave the wheels of steel at home n' come swing with a sling if your bringing the really little ones. There will be a small allocated space for prams and it's very limited!
THERE WILL BE PHOTOGRAPHY AND FILMING AT THE EVENT, IF YOU HAVE ANY ISSUES WITH THIS PLEASE LET US KNOW.