Family Fleetwood Mac Party! 12:30pm-3:30pm Saturday 7th September @YES, Manchester City Centre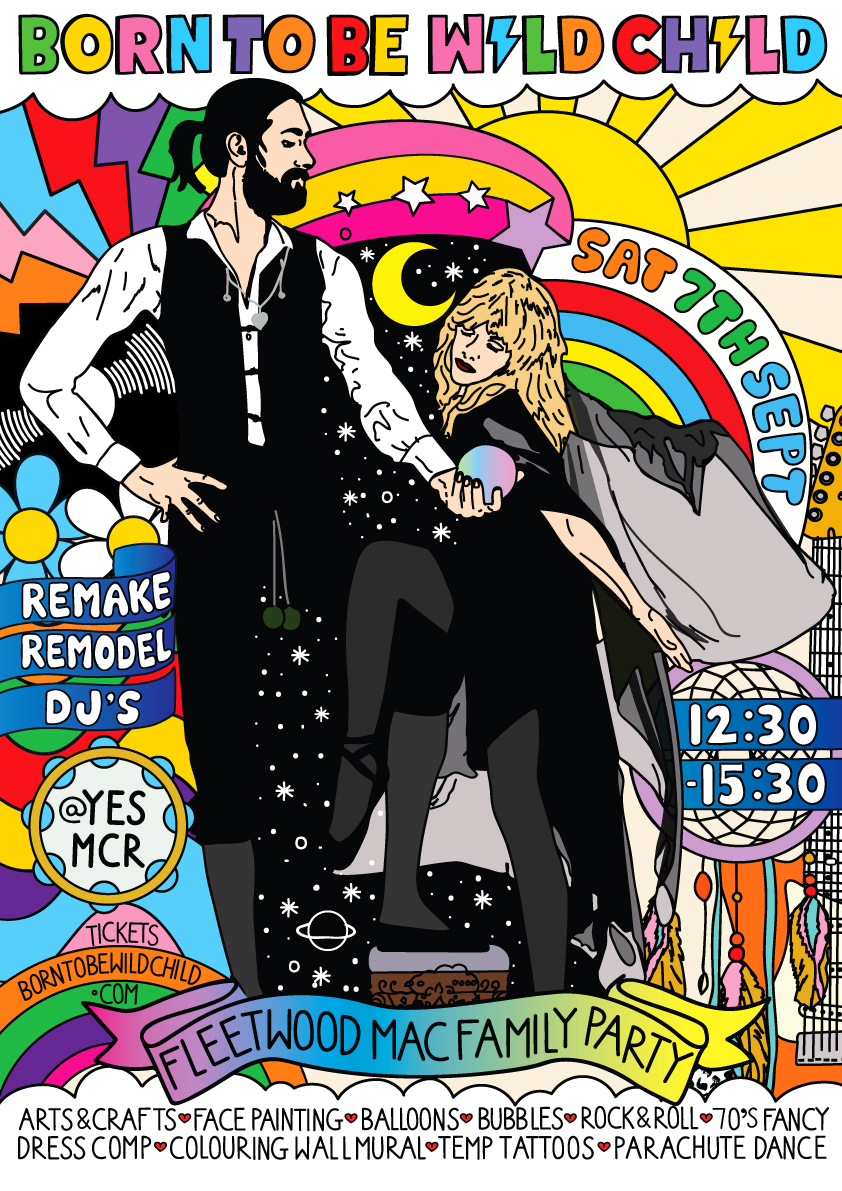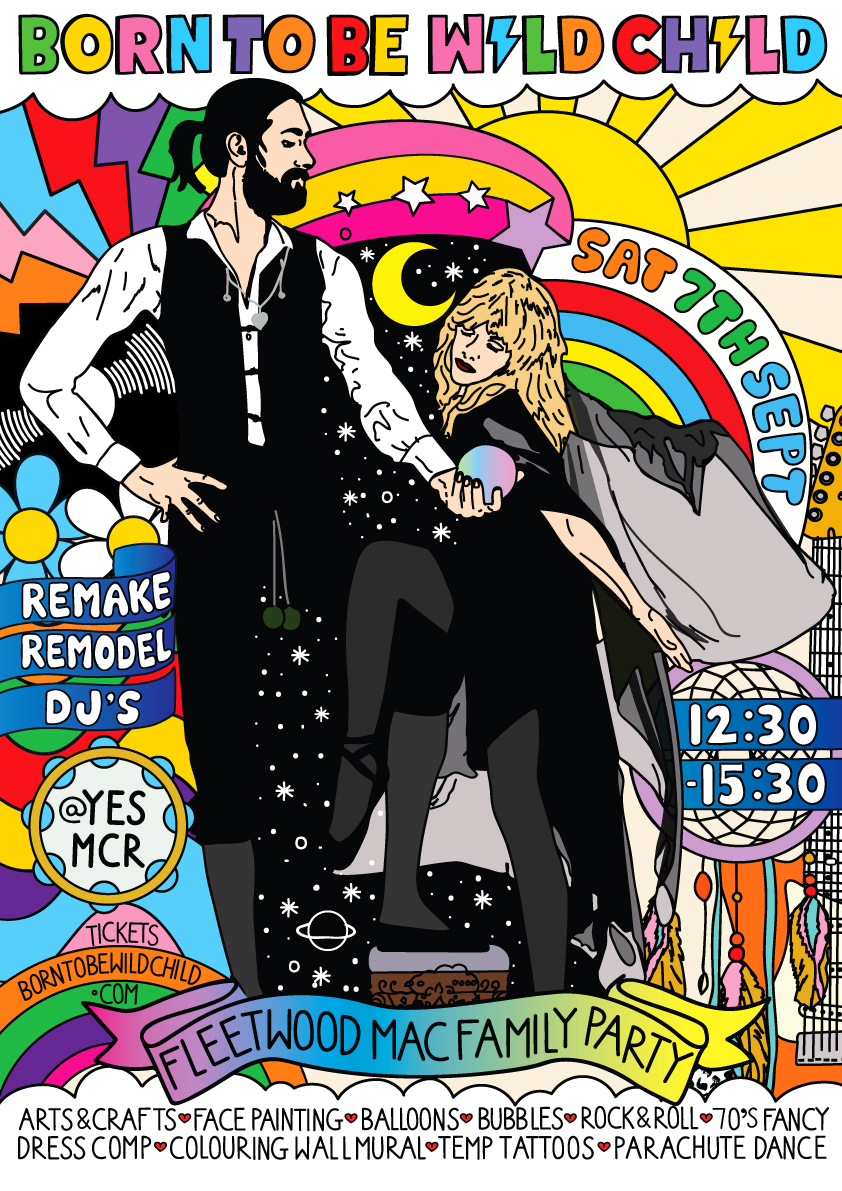 sold out
Family Fleetwood Mac Party! 12:30pm-3:30pm Saturday 7th September @YES, Manchester City Centre
Mamas, Papas, Brothers and Sisters of the moon come together for a fabulous daytime Fleetwood Mac party for all the family! It's time to break the chain and go your own way, this will be fun!
Boho it up we encourage coming dressed in that oh so super 70's Fleetwood Mac style! Feathers, cloaks, shalls, tambourines, top hats at the ready! There will be prizes for the best dressed on the day!
The event is designed for parents to be able to socialise, enjoy the music, delicious drinks and have a boogie rockin out with your wild ones whilst keeping them entertained with the extra activities! BTBWC is for ALL the family to enjoy! Here's what's in store...
PINK ROOM- GET YA STEVIE NICKS KICKS- ROCK N ROLL DISCO + NQ & CHORLTON LADIES CHOIR GROUP LIVE
The Remake Remodel Dj's will be playing all the Mac hits and Stevie stunners along with the usual rock n roll, classic rock, and guitar anthems! AND from 3pm The Chorlton Ladies & NQ singing group will be joining us performing a couple of Stevie stunners to bring a harmonious end to the party!

BASEMENT- MUCKY MONSTER CLUB 👹
We are super thrilled to that @muckymonsterclub will be joining us for our Fleetwood Mac family party and taking over the basement for a themed messy play!🙌🏻 Expect along the lines of gold dust oats, hypnotic rice, sisters of the moon foam and more fun Fleetwood Mac sensory!🌈⛈️🎩✨🌜💕
FACE PAINTING
by PieFace - face painting (Faces from £3)! Think moons and stars, bo ho, super sun sparkles and glam glitter!

FOOD AND DRINK
There's a fully licensed bar serving a fab selection of alcholic/non alcoholic drinks- craft beers/pints, fancy cocktails on the roof terrace buy one get for £1 and we recommend the yummy soft floats -ice tea with ice cream hell yeah- only £3.50 or two for £4.50, hot drinks from 95p and ofcourse kids soft drinks.
Food wise delicious grub from Pepperoni Playboy pizza slices half price - till 7pm, and Firebird Hope vegan and chicken burgers, fries available in the main bar.
OTHER INFO
The event is for all ages but the Recommended Age for this event is from 3 + due to the activities at the event but younger children than this are of course welcome and babies are free entry but pram parking is limited and would advise to ideally leave at home and come swing in a sling if poss! There's a lift too!
Tickets at borntobewildchild.com
Adult £7.50 + booking fee
Child £7.50 + booking fee
Pre Walkers Free (Free Ticket must be added to order)
*Please note the main bar and roof terrace are open to the general public on the day which your more than welcome to use too- our event will take place in the Pink Room and basement!
WILD CHILD'S, MAMAS N' PAPAS, ROCKERS N' ROLLERS- IMPORTANT INFO
The event is aimed at families. Pre walkers don't need to pay but must have a free ticket before hand for capacity regulations.
Every child must be accompanied by at least one adult and no more than four adults to one child.
All adults must be accompanied by a child and no more than three children to one adult. And of course, why are we even saying this, we have too but the children are your responsibility - keep an eye on em!
PRAM PARKING
If possible we'd say leave the wheels of steel at home n' come swing with a sling if your bringing the really little ones. There will be a small allocated space for prams and it's very limited!
THERE WILL BE PHOTOGRAPHY AND FILMING AT THE EVENT, IF YOU HAVE ANY ISSUES WITH THIS PLEASE LET US KNOW.